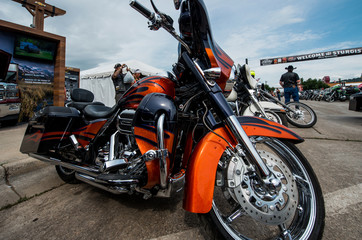 83rd Sturgis Motorcycle Rally
The Sturgis Motorcycle Rally is the largest annual motorcycle event in the U.S., bringing hundreds of thousands of people from all over the world to attend the event each year. The annual event Is packed with concerts, free entertainment, shopping experiences with a vast variety of vendors, a plethora of dining options and exciting nightlife, but have you wondered how the Sturgis Rally originally began?
History of the Sturgis Motorcycle Rally
Clarence or "Pappy Hoel" was the man that founded the event when he bought a franchise of the Indian Motorcycle Company in Sturgis during 1936. After that, he organized the Jackpine Gypsies, a local bike club, who organized a small-scale motorcycle race with only nine participants, which became the first Sturgis Motorcycle Rally in 1938. As news of the event quickly spread, the second annual Sturgis Rally saw a surge in participants, expanding to nineteen participants and featuring flat track races and impressive stunts. The rally drew the attention of 800 motorcycle enthusiasts. By 1940, the rally grew into a two-day event, attracting 150 racers and 5,000 attendees.
Over the years, the Sturgis Motorcycle Rally continued to expand, gaining popularity in the 70s, 80s, and 90s, propelling its growth even further. In 1975, the rally transformed into a week-long event, incorporating exhilarating races, daring stunts, and vibrant festivities. The event became progressively more intense, culminating in participants dousing the streets with gasoline and igniting them. As time went on, the rally expanded its offerings beyond racing and stunts, incorporating food, music, games, bike shows, and competitions throughout the 80s and 90s. The diverse range of activities drew even more people to the event, resulting in over 110 vendors setting up booths during the week-long motorcycle rally by 1988.
Previously, the Sturgis Motorcycle Rally spanned a week, starting on the first Monday in August and concluding that following Sunday. In 2017, with the array of activities growing too extensive to accommodate within seven days, the rally expanded into its current duration of ten days. Yet, it remains uncertain whether the event might evolve into a 14-day spectacle in the future.
For a number of years leading up to the new millennium, the rally maintained a consistent size. However, in 2000, the attendance shattered previous records as over 600,000 motorcycle enthusiasts flocked to the rally. In 2012, the event attracted participants from all fifty states of the United States, as well as numerous international visitors hailing from countries such as Germany, England, Canada, Japan and Australia. You never know who you can bump into while attending the Motorcycle Rally. In 2015, The Sturgis Rally had broken the previous record in 2000, when 739,000 visitors had attended the 75th Annual Sturgis Motorcycle Rally.
Over the years, the Sturgis Motorcycle Rally has been a magnet for various celebrities. Among them, Elvis Presley stands out as having supposedly attended the rally during the 1970s, where rumors circulated of him delivering a private concert at a local bar. Neil Young has made multiple appearances, serenading rally-goers with his performances at the renowned Sturgis Buffalo Chip. Kid Rock has also left his mark, gracing the Sturgis Buffalo Chip stage with memorable concerts and actively engaging in various rally events. Ozzy Osbourne, a prominent motorcycle enthusiast, has rocked the Sturgis Buffalo Chip with numerous concerts. Notable actor, comedian, and motorcycle enthusiast Tim Allen has made several appearances, immersing himself in the rally's vibrant atmosphere. Another actor and motorcycle enthusiast, William Shatner, has likewise participated in the rally, taking part in various events. In addition to these well-known celebrities, the Sturgis Motorcycle Rally has attracted a host of other notable figures throughout its history.
How to Prepare for the 83rd Sturgis Rally
When it comes to attending the Sturgis Motorcycle Rally, the duration of your visit depends on various factors: how long you can put your regular life on hold, your budget, and what you desire from the experience. With a plethora of activities to choose from, it's easy to feel a fear of missing out and be tempted to stay for the entire duration of the rally. However, it's crucial to leave room for exploration beyond Sturgis, as there are incredible rides and destinations to discover.
While Sturgis is not typically considered kid-friendly, it can be adapted to suit families with some careful planning. Avoiding nighttime activities when things tend to get rowdier is recommended, as well as steering clear of hotels that host many rally attendees who may party late into the night. Even a campground filled with motorcycles can disturb your family's sleep if revving engines continue late into the night.
To ensure a hassle-free experience, adopt a minimalist packing approach. This allows you to have space for souvenirs and even buy rally-themed clothing during the event itself, saving further room in your luggage. Prioritize packing rain gear and shower supplies, and don't forget to have your motorcycle insurance information readily available.
When it comes to dining, numerous top biker food spots in Sturgis can be found online, with platforms like Yelp and TripAdvisor providing helpful reviews. The Full Throttle Saloon is highly recommended and considered a must-see for rally attendees. The Dungeon Bar and Loud American Roadhouse also attracts a fair share of visitors, while The Knuckle Saloon, One-Eyed Jack's Saloon and Iron Horse Saloon have all received rave reviews.
The Sturgis Motorcycle Rally, lovingly referred to as "The Rally" by its dedicated fans, is an event that every motorcycle enthusiast should experience. The unparalleled atmosphere and countless attractions make it truly one-of-a-kind. The rally's legacy will continue to be celebrated and talked about for years to come, and with so much to see and do in and around Sturgis, there's simply no other event that comes close. For avid riders and fans of the open road, the Sturgis Rally is an absolute must-do, offering an unrivaled celebration of motorcycles and the freedom they represent.
In conclusion, staying at the Holy Smoke Resort during the Sturgis Rally is an extraordinary experience that combines the thrill of one of the country's most iconic motorcycle gatherings with the convenience of being centrally located to all the Black Hills' captivating attractions. Whether you're a rally enthusiast or looking to explore the historical treasures of Mount Rushmore, Crazy Horse, Keystone, and Rapid City, this resort serves as the perfect hub for an unforgettable adventure. With a diverse array of accommodations available, the Holy Smoke Resort ensures that your trip is not only exciting but also relaxing and comfortable.