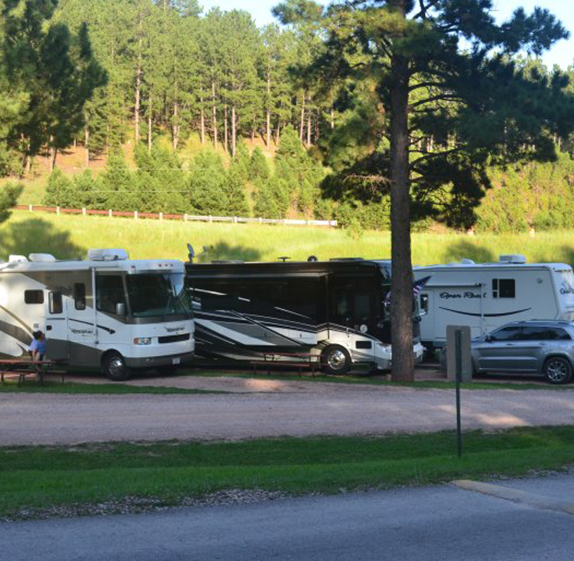 Holy Smoke Resort is for RV Travelers!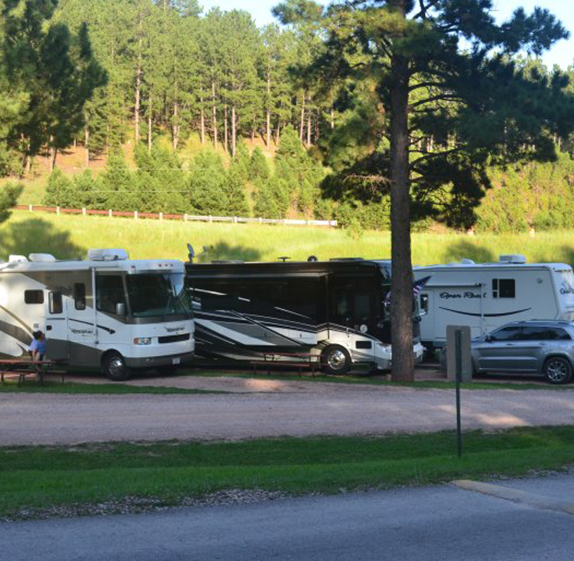 Let's get to the nitty gritty. 
Here are a few of the technical reasons why we are the best place to park it for the night (or the weekend… or the week!) in the Black Hills.
With easy access just off Highway 16A, our affordable RV parking allows you to enjoy your stay in the Black Hills of South Dakota in comfort and seclusion. Perfect for those who are looking for a quiet, natural setting to rest your head.

Each of our 21 RV sites are pull through sites and range from 65' to 78' long with 30 and 50 AMP service – one of the few RV parks in western South Dakota that is able to accommodate the newest and larger RVs.

Holy Smoke Resort features full hook ups, water and sewer, satellite TV (let us know you want a rooftop sat friendly site!), and free wifi throughout the campground.

We are dog friendly! A designated dog run is available to give your pup a safe place to burn off energy when a walk just isn't enough. Supervision of your furry friend is required.
Over the last two years, we have seen a dramatic increase in RV travelers. RVing has become a popular lifestyle and an affordable way for families to travel, create memories, and experience the United States. Most RVers enjoy the great outdoors – something the Black Hills of South Dakota is greatly known for. You'll see wildlife on the property. Deer, fox, and wild turkey are the most common to hang around the area, but we have seen elk and mountain goats in the past. Hiking trails, mountain biking, and watersports (like paddleboarding or kayaking) are only a few of the reasons why our area is so popular among outdoor enthusiasts. Not to mention geocaching and scenic drives.
At Holy Smoke Resort we make it easy for RV and camper travelers to find a great place to stay during their family vacation, retirement getaway, or couples to retreat that is quiet and scenic, but still having easy access to amenities you need while away from home. We welcome every new RVer to our site and we promise you will be treated like family! Ask any questions you have about the area and the RV park when making your reservation and during your stay and we would be delighted to help you create the perfect vacation.
We know so much about RV travelers because South Dakota has a long-standing reputation among the RV community for being one of the most friendly and welcoming states in the country for RV travelers. And we do our very best to help uphold that repuation! With breathtaking scenic views and historical sites to see, Holy Smoke Resort outside of Keystone, South Dakota provides incredibly easy access to all the must-sees of South Dakota.
National Monuments and Parks
Favorite Family Attractions
Please, let us know how we can make your RV trip more enjoyable and your time in the Black Hills unforgettable.
Not an RVer, but still want to stay at Holy Smoke? We also have cabin rentals and vacation homes available.