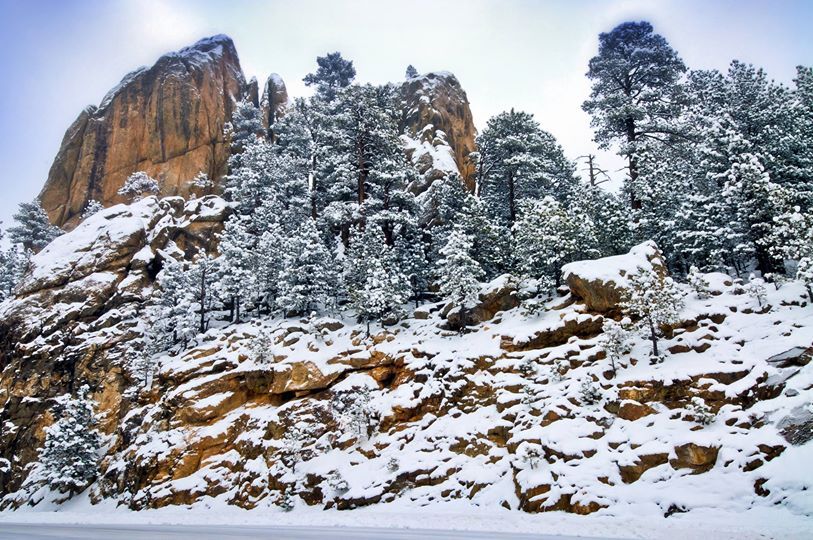 Winter in the Black Hills
The Black Hills offers a dazzling winter scenery with snow-covered mountains, frozen waterfalls, iced-over lakes, and breathtaking parks that are a magical sight to see and play in. Get out and enjoy some of the many winter activities the region has to offer.
Pro Snocross Races
The 11th annual ISOC Deadwood Snocross showdown returns on January 27th & 28th, 2023. 150 of the top professional Snocross racers will descend down the historic Days of '76 Event Complex, providing a weekend of high-flying, high-speed, high-octane snowmobile racing.
Grab your tickets here: https://www.deadwood.com/event/pro-snocross-races/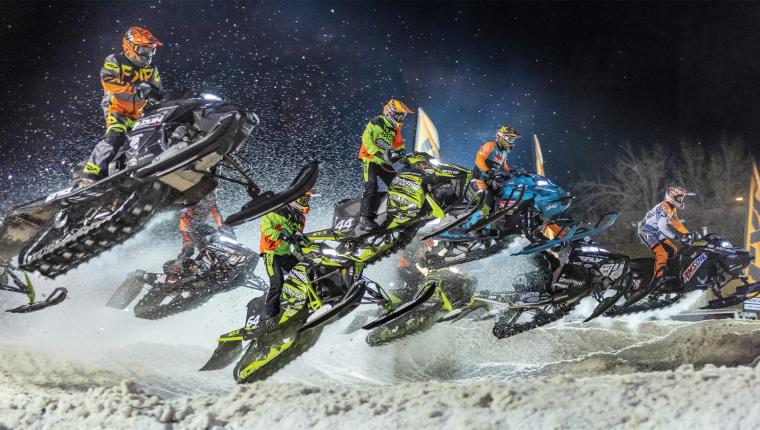 Hiking
The scenery in the Black Hills is stunning year-round and has over 450 miles of great hikes to enjoy. From stunning trails to stroll, to more strenuous uphill marches, you're sure to find something that meets your skill or pushes you out of your comfort zone. Here are a few to get you started.
Black Elk Peak– 6.4-mile hike ending at 7,242 feet in elevation, the highest elevation east of the Rocky Mountains. There are 8 trail paths you can follow to hike to the top. The most common is Trail No. 9, which takes roughly 3 hours and 25 minutes and starts at Sylvan Lake in Custer State Park
Mount Roosevelt Trail Winter Route– 2.9-mile loop near Deadwood, SD. This trail is considered moderately challenging and takes an average of 1 hour and 19 minutes to complete.
Spearfish Community Caves- 0.6-mile hike, taking an average of 22 minutes to complete. Don't let the length fool you, this is a strenuous hike with a steep ascent over loose rocks. It's worth the frozen waterfalls as you arrive to the caves.

Snowshoeing
Snowshoeing is designed for all ages and offers a unique way to see the area without falling through the snow or balancing on skis. Plenty of places offer guided tours or the ability to rent snowshoes to explore the 60 miles of trails on your own. Three places to check out with your snowshoes;
Mickelson Trail- 109-mile trail with 15 trailheads and gentle enough for the entire family.
Centennial Trail- 111 miles from Bear Butte Lake to Wind Cave National Park, full of wildlife and spectacular scenery.
Flume Trail- 11 miles with a 3-mile attached loop.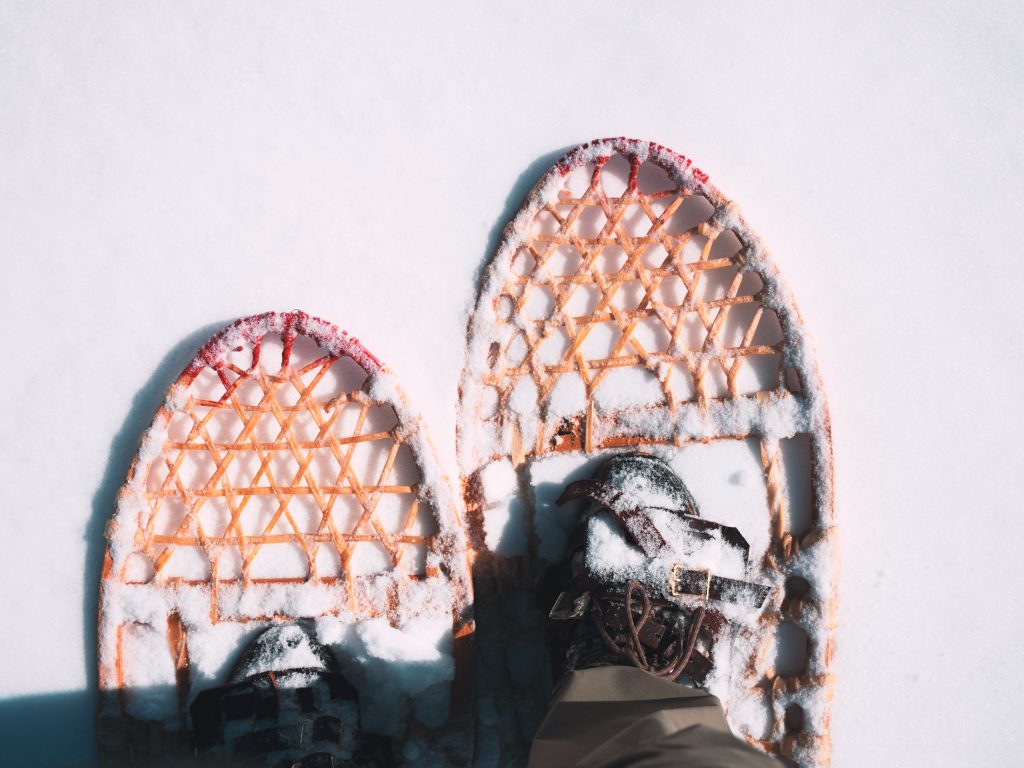 Ice Fishing
As soon as the lakes freeze over, they are open for ice fishing. Ice conditions can fluctuate throughout the season, so use caution when you venture out onto the ice. You can check current ice conditions at most local fishing and bait shops. If you are a beginner, find an area with shallow water, where fish are close to the surface. Make sure you have your annual fishing license or purchase a 1 or 3-day license.   
Sheridan Lake- holds trout, yellow perch and some northern pike
Deerfield Reservoir- holds rainbows, brookies and splake fish.
Pactola Reservoir- holds rainbows, a few cutthroat trout, and some wild brown trout stock
Roubaix Lake- holds brook trout
Stockade Lake- holds largemouth bass, rainbow trout, smallmouth bass, yellow bullhead, and yellow perch
Learn more about ice fishing and the necessities needed; https://www.blackhillsbadlands.com/outdoor-recreation/fishing-ice-fishing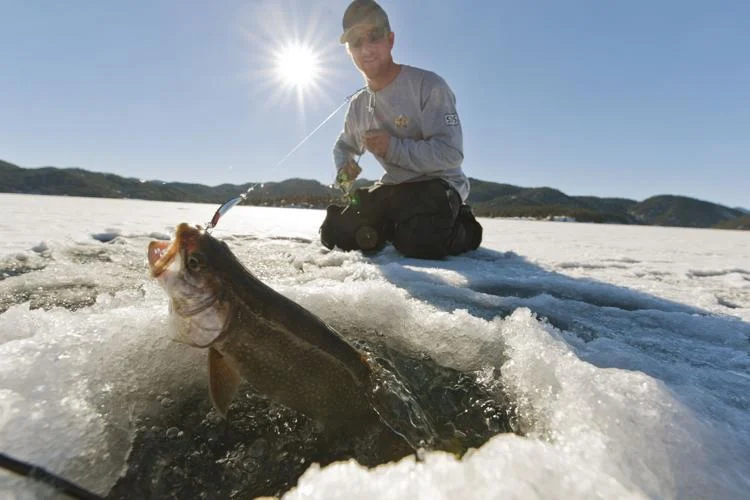 Skiing & Snowboarding
Whether you are a beginner or an experienced skier or snowboarder, the Black Hills has you covered with exciting trails, jumps, rails, slopes, rentals and additional mountain activities like tubing, sleigh rides and more. Grab a season pass or a day pass.
Terry Peak Ski Area- Open late November through early April with over 450 skiable acres and over 30 groomed trails. Terry Peak offers group and private lessons, equipment rentals, a repair shop, dining, and other accommodations. Terry Peak is South Dakota's largest ski area and with a summit of 7,100 feet, offers the highest ski lift service on this side of the Rocky Mountains. https://terrypeak.com/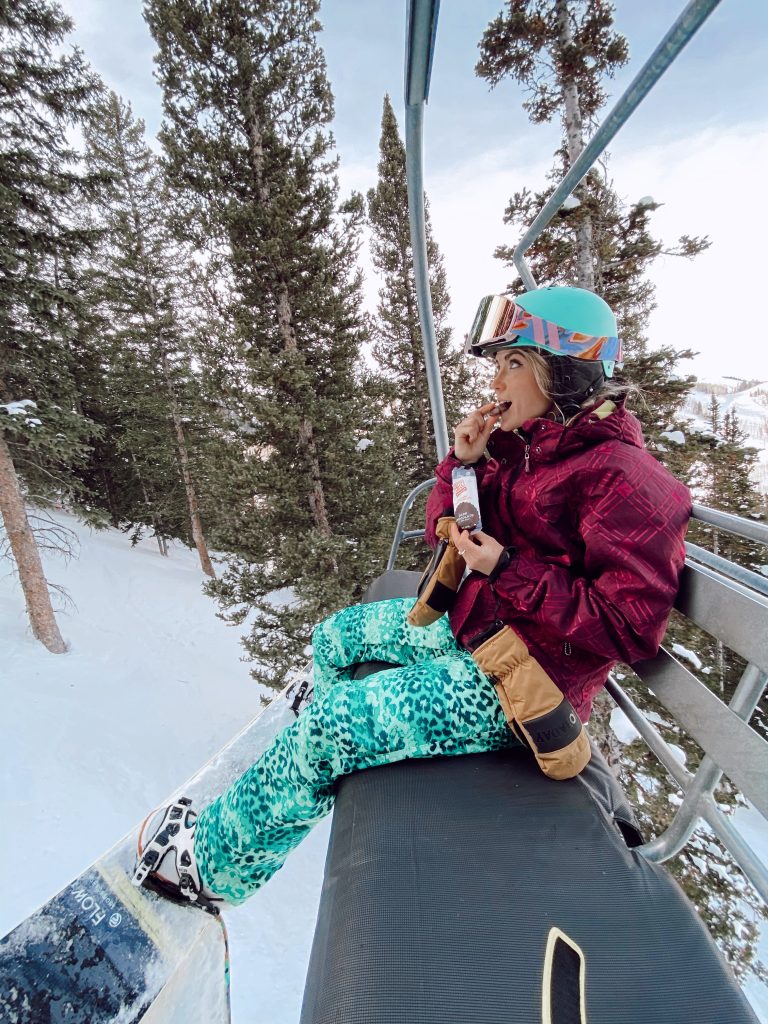 Snowmobiling
The Black Hills has over 17 places providing snowmobiling tours and rentals. It's a popular wintertime activity with over 1.2 million acres of designated trails throughout the Black Hills National Forest. The season is open from December 15th through March 31st. Here are a few places to get started.
The Black Hills offers so many other exciting things to do during the winter. Be sure to plan your trip properly as some places are closed for the season. Keep in mind winter in the Black Hills means there is a chance for snow storms and freezing cold temps. As you plan your activities watch the weather and stash extra items in your car in case of any winter emergencies. Make sure you check out our resort for your next vacation!